Taser
is an offensive class created by
Pepearl
.
The taser is a bright pink teardrop. The electric tfield is electric purple and is also teardrop-shaped.
Electric field - The taser generates a purple electric field in front of it, which damages any vehicle which enters it. When unupgraded, the electric field can kill an unupgraded bully if it stays in the field for 2 seconds, the field lasts for 5 seconds, and it takes 15 seconds to reload.When fully upgraded, the field lasts for 9.5 seconds, and takes 12.75 seconds to reload.
The taser has 60 max boost.
Max health
Field reload
Field life
Field damage
Technical + Strategy
Edit
Strong against: Hazard - taser can damage hazard without touching it.
Decent/weak against: Buster - they can both damage each other from a distance.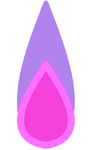 v • e
Pepearl's Conceptions